Gentle, anesthesia-free k9 dental cleaning @ BWH
If you notice brown, yellow or black build up on your dog's teeth (particularly near the gums), bad breath, redness or bleeding along the gumline – these are all signs that your doggie could use a dental cleaning.   We sanitize all our equipment and use clean tools and gloves on every dog.  Have a look at some BEFORE + AFTER dental cleaning pictures – then book in at one of our upcoming clinic dates here.  We also host dental cleaning clinics at other doggie businesses outside of Vancouver – so if it's not convenient for you to travel to Vancouver, just email us at dental@bowwowhaus.ca so we can let you know about a clinic in your area.
$ 179 per dog  ($15 surcharge for dogs over 100lbs+)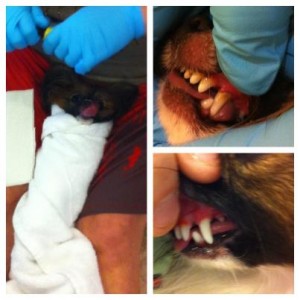 On your doggie's first visit, we will inspect his/her teeth and if your dog is a suitable candidate, we will hold your dog in our lap and thoroughly hand-scale and polish your doggie's teeth – it's a safer and more affordable option that will work for most dogs.  We invite you to stay and watch (out of the sightline of your pooch) if you would like.  We will also show you how to brush your dog's teeth at home and recommend appropriate products from home maintenance.
If your doggie is 10+ years old, has severe dental disease, an existing heart condition, liver/kidney disease, and/or is on any immune-suppressing drugs, we will book your appointment to ensure that a holistic veterinarian is present to consult on the suitability of this procedure and to prescribe antibiotics if necessary.  There is an additional $35 charge for the vet supervision.
Maintenance Visits :: $99
While most large breed dogs only require a teeth cleaning every 6-12 months, some dogs (particularly smaller breeds) are just more prone to tartar build-up. For dogs that book in for a cleaning every 6 weeks, we offer a discounted maintenance rate.
Please understand that a non-anesthetic dental exam and cleaning may not be as thorough as an anesthetic dental exam, cleaning and x-rays, but rather is just one part of a complete dental care plan for your dog.  By using this opportunity to learn about dental care and health you may reduce the number and duration of future anesthetic dental cleanings/exams.